Bio Organic gap filler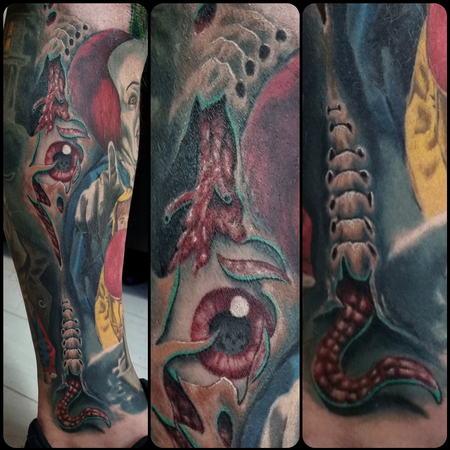 Here's a healed photos of some freehand bio organic gap filled i made on my clients horror leg sleeve. It is among the xenomorph I posted recently and Pennywise and Michael Myers. I love doing freehand biomech when given the chance. If you're interested in getting tattooed by me and you're near Belfast, northen Irteland send me a message via my website http://www.tattoosbygeorge.com and lets make something happen.
Thanks for having a look and remember to vote for this one for tattoo of the day.
Keyword Galleries:
Bio Mech Tattoos
,
Color Tattoos
,
Evil Tattoos
,
Fantasy Tattoos
,
Small Tattoos
,
Abstract Tattoos
,
Bio-Organic Tattoos
,
Body Part Calf Tattoos
,
Body Part Leg Tattoos
,
Body Part Leg Sleeve Tattoos
,
Custom Tattoos
,
Evil Death Tattoos
,
eyeball Tattoos
,
Sleeves Tattoos
,
Space and Aliens Tattoos